Glass is now the material that is used the most often for contemporary railings in Toronto. We can understand why it has become popular as an alternative to traditional wooden railings and spindles.
Glass railing has a remarkable aesthetic effect, adds openness, makes rooms seem wider, and encourages the passage of light.
Glass railing may also be used in combination with other materials. It increases the elegance and value of a property, and when it is built and implemented properly, it is quite secure and useful. Here in this article, we take a closer look at glass railing systems.
Different kinds of glass railings
There are a number of different glass railing systems, each of which is visually and structurally distinct from the others. There are three common types of glass railing systems, and they are standoff, dadoed, and clamped.
Standoff glass railing is a kind of glass railing in which the glass panels are held in place by stainless steel cylinders. Inside a wooden framework, dadoed glass railing is a kind of system in which the glass panels are fastened in place from the very top to the very bottom.
In contrast, clamped glass railing utilizes glass chips as a means of securing the glass panels, which may either be fastened to steel or wooden supports. While shopping for a home glass railing system, it is helpful to have a clear idea of what features and benefits you are looking for in the railing system.
Which kind of glass is used in glass railings?
Tempered glass, sometimes referred to as "invisible railings," is used consistently throughout all sectors of the economy. The usage of a thickness of half an inch is recommended by Inline Design, who collaborated on this recommendation with prominent glass producers.
Laminated glass, which is ideal for frameless installations and is gradually becoming the norm in the building sectors in Toronto, is in the process of becoming standardized.
The expense involved in installing glass handrails
One must also take into consideration the expense while installing glass railings in Toronto. Your project has a significant impact on the costs. The total cost of the project is determined by the following components: the kind of glass to work with, the location of the installation, the personnel, and the necessary hardware.
When you collaborate with a firm that provides creative services for glass guardrails, you have additional insight into the possible expenses associated with the project. Collaborate with the members of your team to determine the specifications for the next stair railing project.
Significant differences in the level of craftsmanship provided by various companies
It is common knowledge that glass railings are both a worthwhile financial investment and an aesthetically pleasing addition to a house or place of business. But, before you sign any contracts, be sure to complete your research on the company and installer that you want to deal with since not all glass firms and installers are made equal.
A railing that has been incorrectly made or placed is not just an eyesore but also a significant threat to public safety and poses a significant legal risk.
When it comes to making decisions about your glass railing system, one of the most essential things you can do is make sure you take the time to choose a reputable, skilled, and insured glass firm in Toronto that is known for producing high-quality work and has a track record of success.
read more : Glass Railing System services
Advantages of having glass railing system
Some of the advantages of having glass railings include the following: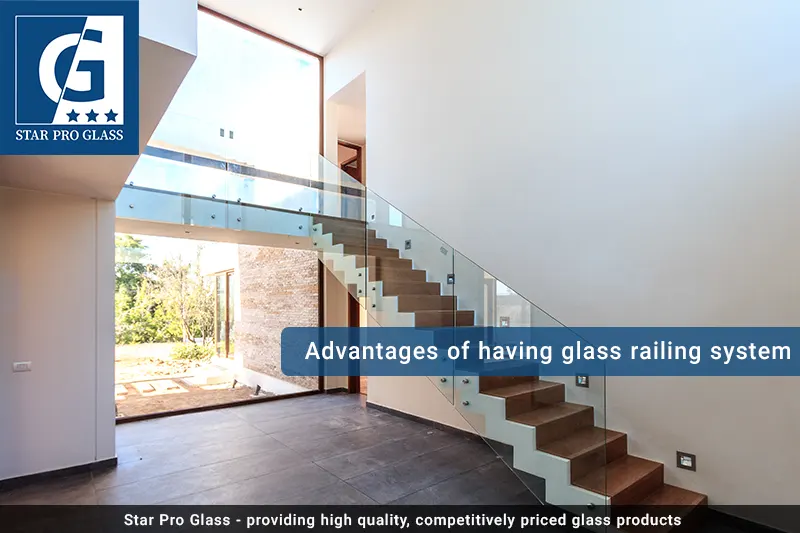 Contributes to an increase in visibility
When it comes to the construction of a living environment, the most essential factors to take into account are the amount of light and the visibility. Glass railing systems provide a solution that is both adaptable and economical for a variety of architectural problems.
You may increase the visibility of a location by installing railings on a staircase in your house, as well as those that surround a deck or pool in your backyard or at your place of business.
Railings that are constructed out of wood or metal might be bulky, decrease visibility, and even block light from entering the area. Glass railing systems, on the other hand, feature a streamlined form that not only allows natural light to enter the area but also makes the space seem more comfortable and open.
A blockade against the breeze
Depending on the orientation of your deck, an outdoor glass railing may also function as a wind barrier, preventing your patio party from being interrupted by strong gusts and allowing you to continue enjoying yourself. Also, it enables you to make use of your terrace even during the colder months of the year.
In order to maximize one's field of vision, one of the best places to install a glass railing system is on a deck. Glass railings on your deck help to eliminate barriers to your view and make it possible for you to get the most out of your outdoor space.
Minimal service Is needed
Glass railing systems need very less upkeep in comparison to wooden railing systems. Polishing and staining wood systems that are used inside on a regular basis is necessary in order to preserve their color and gloss levels.
When exposed to the elements, the level of maintenance that must be performed on wooden railings is significantly increased. The constant assault from the elements, including the sun, the wind, and the rain, has a rapid deteriorating effect on the railings.
Glass railings do not deteriorate nearly as rapidly as wooden railings and do not need nearly as much maintenance. The look of the glass may be restored to its former state by just cleaning it off with soap and water.
The qualities of endurance and durability
Exterior railings made of glass have a far longer lifespan than those made of wood when it comes to decks. There is no possibility of the material becoming misshapen due to bending or splitting, and there is also no danger of it being compromised by termites or any other kind of insect.
In addition, you won't have to stain or paint outdoor glass railings to maintain their weather resistance since you won't need to do any of those things. But you should review our guide on the use of metal to ensure that you have selected the appropriate alloy for the outdoor metal railing project you are working on.
Design that allows for flexibility
Glass is one of the few materials that can be used for a porch railing system, and it is also one of the few materials that can combine several design components without seeming crowded or haphazard. This provides you with more freedom and choices when it comes to the actual design of your outdoor area, which you may implement.
Environment-Friendly
Materials that are less harmful to the environment are increasingly becoming a focus for businesses that specialize in construction in Toronto. Thankfully, glass is a material that is beneficial to the environment, making it an ideal option for modular glass railing.
A glass panel railing is chemically inert and recyclable at the same time. Even when used over an extended period of time, it does not pose any threat to the natural world.
Conclusion
Do you possess a viewpoint that cries out to be admired and shown for others to see? If this is the case, the railing system made of tempered glass will serve your needs the best.
It not only gives your deck a more sophisticated look, but it also provides an additional layer of protection and assurance that is difficult to outdo. Even though the tempered glass railing system has a few insignificant drawbacks, the advantages it offers far exceed these potential issues.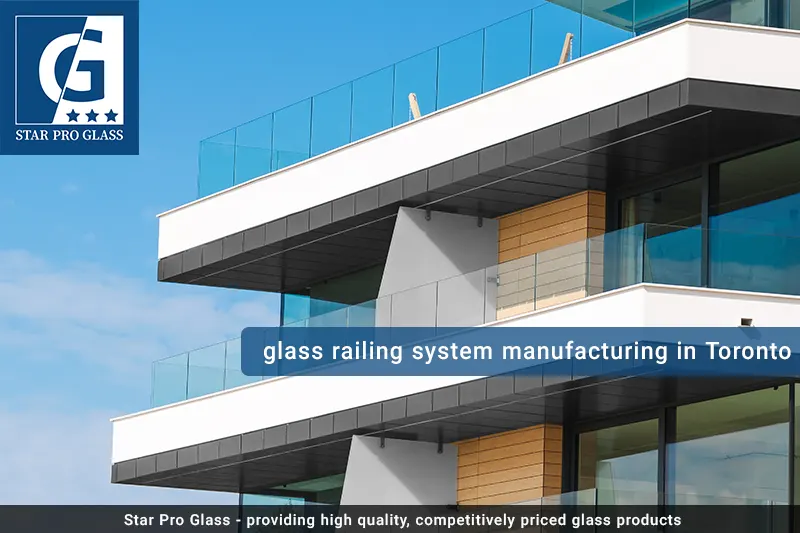 glass railing system manufacturing in Toronto
your premier provider of glass railing system manufacturing services in Toronto, Canada. Our company is dedicated to providing high-quality, innovative solutions for your residential and commercial glass railing needs.
We specialize in manufacturing and installing custom glass railings that are not only visually stunning but also durable and safe. Our team of experts has years of experience in the industry and uses only the highest-quality materials to ensure your complete satisfaction.
At StarProGlass , we pride ourselves on our commitment to customer satisfaction. Our team works closely with each client to understand their unique needs and create customized solutions that meet their specific requirements. Whether you need a glass railing system for your home or business, we have the knowledge and expertise to deliver results that exceed your expectations.
Choose StarProGlass for all your glass railing system needs in Toronto, Canada. Contact us today to learn more about our services and schedule a consultation with our team. We look forward to working with you!
Star Pro Glass
Special services in Toronto Canada at competitive prices


905 237 9590
Instagram page : instagram.com/starproglass/