Floor to ceiling glass walls and Glass Partitions: Frameless Glass or Aluminum Frame
Glass gives your partition walls a high-quality appearance. Partition glass walls create a beautiful practical solution and allow you to work undisturbed and in peace – ideal conditions for offices. Glass partitions can also be very efficient at reducing noise and obviously let in an abundance of natural light to brighten up the office space.
For privacy purposes, we can install frosted glass instead of clear – for all or some of the panels. The walls can come in variety of custom pattern or design by sandblasting or having a film applied to the glass.
Glass Partition structure or Glass Panels Can Create a Sophisticated, Open Look in Your House or Office
Coming from office cubicles to bathroom screens, glass wall structure partitions play many roles in modern home and office décor. A partition wall can be built from various types of glass and metal components, which means it can be customized to match specific needs and choices.
Commercial glass services in Canada , Toronto —> Call Us
What is a glass partition  ?
Glass partition wall is an internal wall structure manufactured generally of a glass or even a glass alternate. Glass panels usually are associated with metal mounting, channel or magnetic clamps to generate custom not load-bearing walls of which can work as business office dividers, bathroom rupture walls, glass wall structure systems, plus more. Typically the glass partition wall structure has become specially popular in modern day office design in addition to is employed in business office cubicles, conference bedrooms, and entryways. Yet , these glass surfaces are also generating their way directly into home décor…not simply as toilet monitors but as imaginative design solutions inside small apartments in addition to modern living places. Residential applications contain lounge room walls, grasp bathroom walls, in addition to accent walls.
Commercial glass services in Canada , Toronto —> Call Us
Do you know the benefits of utilizing a glass partition ?
A glass partition wall provides a range of benefits:
Clear glass panels allow you to delineate separate areas without compromising the open, roomy feel of your space.
Fewer light fixtures are needed when the natural light coming in through windows can flow freely through a clear glass partition wall.
Clear office partitions boost transparency, communication with co-workers, and connection with clients.
Small homes and apartments feel larger when a clear glass partition wall is utilized rather than Sheetrock.
Glass walls are space friendly, filling less floor space than a traditional structure.
Many glass wall systems are more easily moved or removed than their Sheetrock counterparts.
Vision obscuring or opaque glass may also be used to create a unique partition wall that offers personal privacy or hides a room's less attractive features.
Glass wall partitioning can be custom made to fit a variety of spaces and design ideas.
Glass resistant to staining and clear Glass panels offer smooth areas that are super easy to clean and sanitize.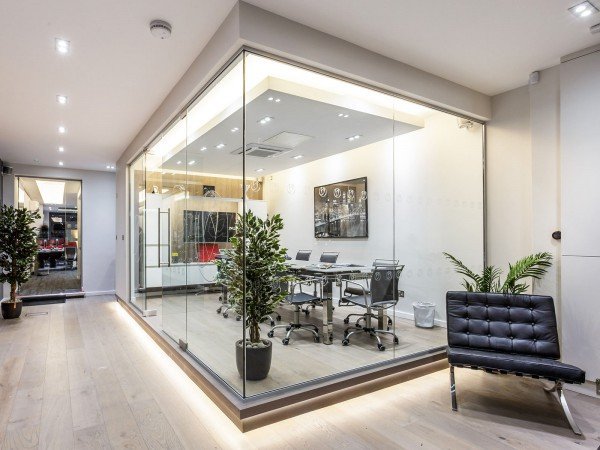 What sorts of glass walls and glass partitions can be obtained ?
A glass partitions range from small privacy displays to intensive wall structure systems. They can be built from a number of glass and can be framed or frameless. Additionally , the size and configuration of the sheets of a glass can be customized to fit many design schemes. Some of the most popular types of glass partition walls are glass panels, glass room dividers, and glass wall systems.
Commercial glass services in Canada , Toronto —> Call Us
What is a frameless glass wall system 
and the way 

does it work?

One of the foremost trendy glass partition options is that the frameless glass wall system. Ideal for creating a contemporary meeting room or living area, this sort of partition highlights panels of frameless glazing coming together to make sleek interior glass walls. These custom glass walls are utilized in areas of all shapes and sizes to make unique and delightful spaces.

Frameless glass wall systems typically extend from floor to ceiling. Unobtrusive metal channel is fastened to the ground and ceiling and holds the glass panels in site. Sometimes the pieces of glass are slid into the upper and lower channels simultaneously from the side. In other situations, the highest channel is deeper and wider than necessary, in order that the glass are often inserted into it first then maneuvered into rock bottom channel. Since the highest channel is extra deep, it still grips the glass once it's set within the base channel.