Star Pro Glass (SPG) provides installation of glass for storefronts, frameless entrance systems, curtain walls and frameless porch enclosures. Our skilled specialists can help you to choose the style that will work to the design and layout of your Glass projects.
Our teams of dedicated professionals are with the sole goal of providing our customers with the perfect products to meet their preferred style and appearance.
Porch enclosures – Patio Enclosures
Do you have an existing porch that you simply have an interest in screening in or enclosing with windows or doors?
Screen in your existing porch or deck to enjoy the cool summer breezes or add glass to increase your use of the space. If you've got a porch or patio that's already covered, there's no got to tear it out and rebuild the enclosure. Our enclosures provide an equivalent quality and benefits of our sunroom wall system, simply built within your existing space.
A champion porch enclosure will enhance the general appearance of your home while maintaining existing views. Minimal on-site construction makes this porch upgrade a fast and straightforward option. Screen rooms are an excellent starting choice which will be easily converted into a sunroom later.
Types of Porches
Three Season Porch
Constructed with a durable aluminum frame, this room may be a classic in quality and workmanship. counting on your planned use of the space , three season porches are available with single-pane glass or double-pane insulated glass. Unlike the four-season room, and solarium, three season sunrooms aren't designed to be heated or cooled on an ongoing basis. Porch enclosures
Four Season Porch
This style porch allows you to enjoy your space all year long. You're liberal to enjoy the outside without fear about the warmth , cold, rain, or insects. For ultimate climate control, install a heating and/or cooling system. choose between Aluminum or Vinyl (reinforced with aluminum or steel framing). Structural thermal breaks within the frame and our double-pane insulated glass help keep your energy costs down. Porch enclosures
Solarium
Surround yourself with glass on all sides and above. Imagine relaxing under the celebs within the dark in the comfort of your solarium. Our innovative aluminum framing system allows you to put in both heating and/or cooling systems. Our insulated glass keeps your energy costs down without sacrificing comfort. Porch enclosures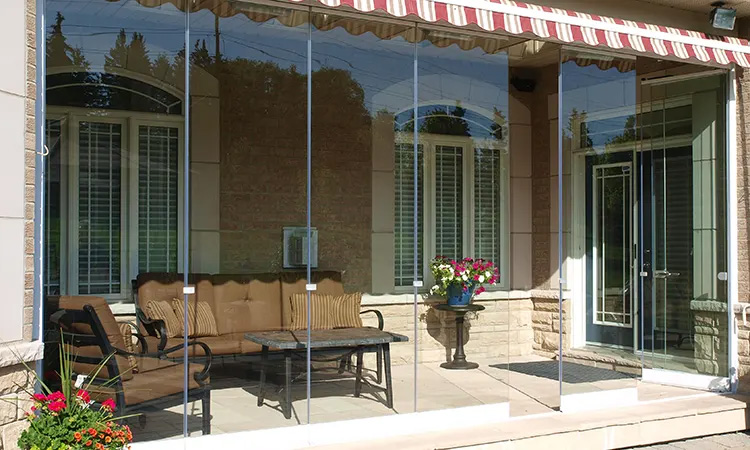 Traditional Sunroom
A traditional sunroom takes the simplest of both worlds by combining the planning of an inside space with an abundance of sunshine . a historically framed sunroom may be a traditional room addition constructed with conventional materials like wood, drywall and insulation. the space may be a true extension of your existing home. What makes the traditionally-framed sunroom unique is that the incontrovertible fact that StarProGlass fill your room with as many custom-made windows and doors in an endless number of configurations as you would like – creating a singular and light-abundant oasis.
Below are 
the kinds 

of screening 

we feature 

along side 

a quick 

description:

Fiberglass –inexpensive, won't dent, standard for many windows
Aluminum – Resists damage from sun, durable, however can dent and isn't recommended for coastal regions
No See-Um – Finer mesh, with smaller openings to stay out small insects
Clearview – Fiberglass screen designed to be less visible by employing a finer gauge wire mesh
Pet Screening – Paw proof, nylon based with plastic coating. Rip and tear resistant, will keep pets in and pests out
Sunshade Screening – Blocks up to 70% of UV rays. Also referred to as privacy screening, because it prevents neighbors seeing in, while still allowing visibility to the surface.
FEATURES & BENEFITS of Porch enclosures
Encircle yourself with natural beauty all day and every one night. From floor to ceiling, Patio Enclosures solariums offer you maximum views of your surroundings because of their glass walls and glass roof. Each solarium is manufactured with our 1-inch-thick double-pane insulated glass to enhance heating and cooling performance.
Ideal for applications that involve extreme height and roof pitch, straight eave solariums make a shocking addition to any home. Available with one slope or saddle roof , Patio Enclosures solariums are truly a masterpiece of expertise and style . Our solarium frame options include white, sandstone and bronze and supply the very best resistance to scratching, fading, peeling and chipping.
read more about Custom glass services